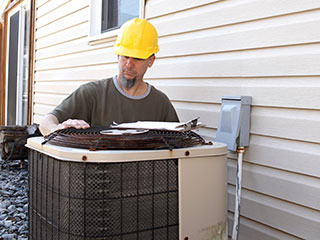 Air ducts and vents are important, but the HVAC (Heating, Ventilation, and Air Conditioning) unit is the center of the whole system. Its also arguably the most vulnerable to damage if it gets too dirty or goes too long without maintenance can save you a lot of trouble in the long run.
The What Now?
The HVAC unit is usually a box-shaped device located either on the roof of the building, or fixed to one of the exterior walls. When it's hot outside, you can sometimes hear water trickling down from it as it cools the air and creates condensation. As this machine is responsible for the heating or cooling of the air using electricity, the HVAC unit is the part of your ventilation system that typically works the hardest and gets exposed to the most dirt.
The Importance Of Cleaning
When the HVAC sucks in air from outside the building to be heated or cooled, it also takes in dust, pollen, and air pollution that's floating around the neighborhood. Over time, these impurities can build up inside of the HVAC until it clogs and overheats – when this happens, it'll also reduce air quality inside the building. Scheduled cleaning and rust-removal is all it takes to avoid expensive repair work in the future, especially if you use your air conditioning a lot.
Filter Replacement And Cleaning
In addition to cleaning your HVAC unit and its adjacent ducts and grilles, we can replace your filters when they get too full or worn. Every HVAC unit contains multiple filter screens to catch dirt and dust before they can be pulled into the system. Over time, these filters get so clogged and tattered that they need replacement. These filters can be made from a variety of materials, and come in multiple sizes depending on the style of HVAC you use. Whatever your unit requires, our team can install one that's as good as new.
Contact Us
If your air conditioning system needs work, or if you'd like to make sure you don't have any surprises in the future, give Air Duct Cleaning Lake Forest a call. Whatever work your system needs, our experienced team can provide us. Just give us a ring today and explain your situation.